Sustainability
We use single Hook and line from Rod and Reels, Just like they did in the early 1900's, we also scuba dive and Spearfish.  We fish under a Federal Quota system designed to protect our fisheries, and make sure the Gulf of Mexico has a survivable future.  Only a certain amount of species can be commercially harvested in the Gulf.
By using sustainable methods of fishing, we help save Sea turtles by not using a Long line method of fishing, which uses several miles of bottom hooks which can drown the sea life.
Our Commercial divers are some of the best Spearmen I know of, they use Spearguns to harvest the fish while usually spending 15- 30 minutes a dive.  This method of fishing is an actual "see the fish then shoot", by being selective they can be very selective and only harvest certain species that we are targeting. This leaves other species free to swim away.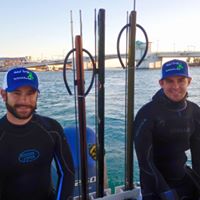 Spearfishing is a very selective form of fishing and I believe its much more ecologically sustainable when compared to line fishing because line fishes can not choose which fish they will hook up too. Thats were spearing comes into play, we can choose the type and size of the fish we want.